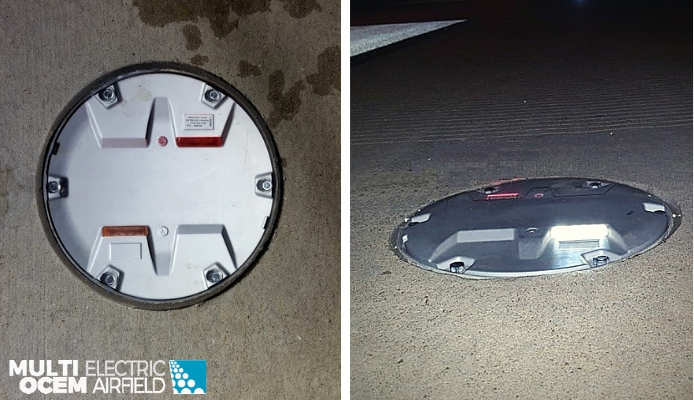 The world's busiest airport strengthened its long-term relationship with Multi Electric – OCEM Airfield yesterday, for Taxiway and Runway LED inset lights.
Hartsfield-Jackson Atlanta International Airport has entrusted Multi Electric – OCEM with its lighting needs since 2016, when the Chicago-based company provided both inset and elevated LED runway lights.
The renewed collaboration is a great achievement for Multi Electric – OCEM Airfield, which has strengthened its presence in the US market thanks to the quality of its products and strong results that translate to successful case studies.
Atlanta International Airport has been the world's busiest airport by passenger traffic since 1998. It has now undertaken an increasingly common transition within the airfield sector: fully replacing the taxiway edge lights with inset lights to guarantee a lower carbon footprint, an higher reliability with  minimized maintenance costs.
The practice originated with military airports and has become a trend that guarantees superior durability and reliability of the taxiway lights — two qualities with which Multi Electric – OCEM Airfield's lights are proudly associated.
Known for its long history in United States with more than 300 installations in airports in North America, Multi Electric-OCEM Airfield Technology supplied more than 1250 Airports globally making it a focused leader and supplier of choice in the LED Transition.
With its production and tech service centre in Chicago, IL established in 1917, Multi Electric – OCEM Airfield is a Proud American Manufacturer for FAA Certified Airfield Ground Lighting Systems including LED Light Fixtures, LED Guidance Signs, Microprocessor Current Regulators and ALCMS.
To discover more, please contact our sales representatives at: sales@multielectric.com.
Multi Electric – OCEM Airfield
Lighting the Future